Aquatic Glassel
Fire Pit Installation

The natural gas fire pits shown are in the finishing stages and ready for glass installation

As you can see there is a solid bottom and a drain
Your burner ring should be at least 4" from the edge of the Fire Pit on all sides
and preferably stainless steel

The large lava rock goes just below the fire ring and then the crushed lava rock (not shown) and a thin layer of sand on top of that.
Then you pour your Glassel and you're done!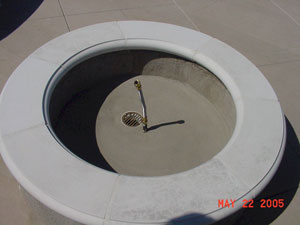 We used an average size lava rock up to about 4" from the surface of the Fire Pit.
Other filler materials may also be used to back fill the fire pit.

Up to about 2.5-2" from the top you should use ¼" crushed lava rock and position the burner gas jets facing up
just on top of the lava rock.

Pour sand on top of the smaller lava rock and spread a thin layer covering the lava rock surface and just dusting off enough to expose the burner.

The sand will lock the lava rock in place and stop the glass pieces from falling into and mixing with the lava rock.

Pour the desired thickness of glass on top and spread evenly until you have sufficient coverage just below the outer surface of the fire pit.

Now you can light your fire pit and enjoy the flames on top of your magnificent creation.